Media
Let's talk Joro spiders
For interviews and speaking engagements
Anthony Trendl
Suwanee, Georgia
630-890-9351
Media Interest is Welcome
Do you need an interview? I would love to speak with you. Whether you need a quick quote or a longer discussion, drop me a line. I bring an upbeat, enthusiastic, balanced perspective to what others consider scary. Let's talk.
Whether you are looking for a quick, colorful quote or a longer chat, I'm happy to help. I'll bring a witty lightness to a complex discussion.
Pair me with an arachnologist or entomologist. Match their expertise with my passion. We can educate and inspire together.
I'm happy to talk about…
My history with the Joro spider
The wonder of animals in our backyards
The particular beauty of a Joro spider
How to tell a Joro spider from other spiders
What does a Joro spider web look like
Positive metaphors implied by the Joro spider
Finding good and beauty in something that might scare others
The national fascination with the Joro spider
Where to find a Joro spider
Are they safe?
"It was intoxicating, the way a painting is intoxicating," he says. "I was totally sucked in." -Anthony Trendl to the Wall Street Journal when discussing his reaction to seeing the spider for the first time.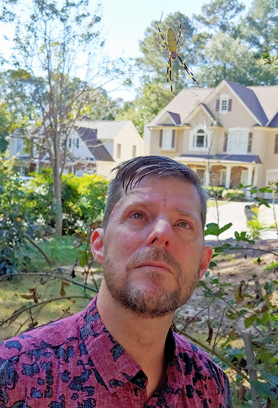 The Stuff of Nightmares or Gardens?
Maybe both. As you learn more, the nightmares will disappear.
See our sponsors: American Speechwriter and Tree Fort Books
© Copyright 2023 All Rights Reserved. JoroSpider.com
This site may contain affiliate links so I earn a commission.